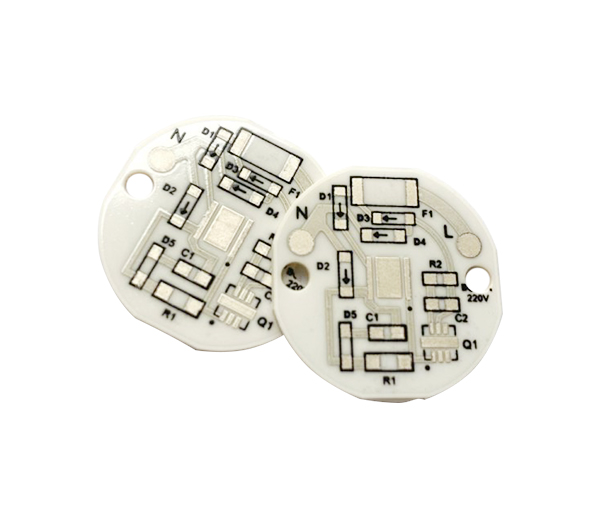 Material properties Aluminum Oxide 96%:
Aluminum oxide PCB (Al2O3 or Alumina) is today the most widely used ceramic printed circuit board and submounts. This is thanks to its good material properties, namely good thermal conductivity, low CTE (coefficient of thermal expansion), resistance to chemical hazards and hermeticity in combination with a relatively low cost and a more easy handling. Applications include for example cooling and heating modules, LED boards, medical circuits, sensor modules, and high-frequency devices.
The main reasons Alumina is chosen over other printed circuit boards is:
· Higher operating temperature up to 350ºC (using thick film printing)
· Lower expansion coefficient (6-8 ppm/ºC) matching components
· Good thermal properties (22-24 W/mK)
· Superior high-frequency performance
· Smaller package size due to integration and multi-layer possibilities
· High wear and chemical hazards resistance
· Hermetic packages possible, 0% water absorption
· Good light reflection due to white color.
· Limited to no outgassing
· Strong rigid material
At CERcuits, we supply both Aluminum Oxide PCB (Al2O3 96%) made by thick film process (Silver metalization) as well as Direct Plated Copper Technologies (DPC), with copper tracks and pads.
We offer online quoting + ordering and have a solution for you whether you are in your development phase, doing research or moving towards mass production.
Find a Ceramic PCB Manufacturer and Supplier. Choose Quality PCB Prototype Manufacturers,
Suppliers, Exporters at kxpcba.com.Welcome to send your design to sales@kxpcba.com.